Investing in global markets rather than simply in the UK means you gain exposure to thousands more companies and, in the case of bonds, to different governments too.
Your investments are therefore tied to the performance of a greater range of industries, and to different economic cycles and flows of trade, as well as different financial conditions.
As such, you're able to spread your investment risk more effectively through a process known as 'diversification'.
But investing overseas can sometimes cause confusion. This is partly because investors based in the UK don't often earn the same percentage return as their foreign counterparts.
You might read, for example, that the S&P 500 index of leading US shares rose by X% one year but then spot that the return on your own S&P 500 index investment wasn't quite the same.
So why is that?
Part of the difference comes down to the fees that fund managers charge to replicate the performance of a market index such as the S&P 500. The higher the fees, the bigger the bite they take from your investment return.
It's more reason to invest in low-cost funds, because the lower the cost, the closer your net return will be to the underlying index's performance.
But there's another big reason for such discrepancies: currency fluctuations.
The foreign exchange effect
What matters to investors like you and I who are based in the UK is the performance of your overseas investments in pounds and pence.
After all, your overseas investments are likely to be priced in US dollars, euros, or yuan – or, indeed, any number of other potential currencies different from your own. So the amount they return needs to be translated back into sterling.
And sometimes this translation effect can work for you and sometimes against you.
That's demonstrated by the table below, which shows how the S&P 500 has delivered a different return each year depending on the currency it's expressed in. This has sometimes benefited British pound investors; other times not so much.
Performance of the S&P 500 index in US dollars and British pounds
| | | | | | | | | |
| --- | --- | --- | --- | --- | --- | --- | --- | --- |
| Returns | 2016 | 2017 | 2018 | 2019 | 2020 | 2021 | 2022 | H1 2023 |
| S&P 500 (US dollar) | 12.0% | 21.8% | -4.4% | 31.5% | 18.4% | 28.7% | -18.1% | 16.6% |
| S&P 500 (British pound) | 33.6% | 11.3% | 1.6% | 26.4% | 14.7% | 29.9% | -7.8% | 10.3% |
Past performance is not a reliable indicator of future results.
Source: Vanguard calculations, using data from Factset. Note: returns are calculated on a total return basis with dividends reinvested.
How it works
If you use your pounds to purchase an investment in an overseas market through a platform like Vanguard's, the first thing we do is convert this money into the currency of the market concerned.
In the case of a fund that tracks the S&P 500 index, as in our earlier example, we'd convert your money into US dollars before investing it on your behalf.
If you later instructed us to sell your investment, we would receive the dollar proceeds from that sale and then convert them back into pounds before depositing them into your account.
The diagram below illustrates the process.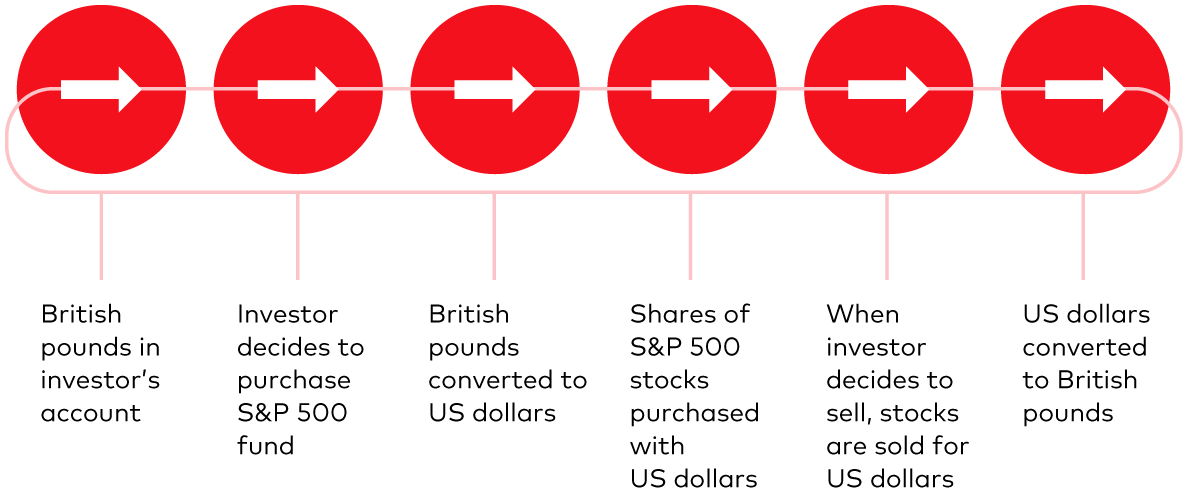 Source: Vanguard.
Swings both ways
While you're invested in an S&P 500 index fund your money is in US dollars. So, during this time, the value of those dollars relative to sterling is constantly fluctuating, regardless of how well the fund performs.
As is shown in our first table, this creates an additional source of potential return – both positive and negative.
If the value of the dollar increases relative to the pound, as it did in 2016 in the wake of the Brexit referendum, you'll make more money because you'll get more pounds per dollar when it's time to sell. Similarly, you'll make less of a loss during a bad year, as was the case in 2022, when the pound and global stock markets were weak at the same time.
But if the dollar weakens against the pound, as it did in 2017 and in the first half of 2023, you could get fewer pounds back.
The same principle holds for all overseas investments denominated in currencies other than sterling.
If the overseas currency strengthens, your return is increased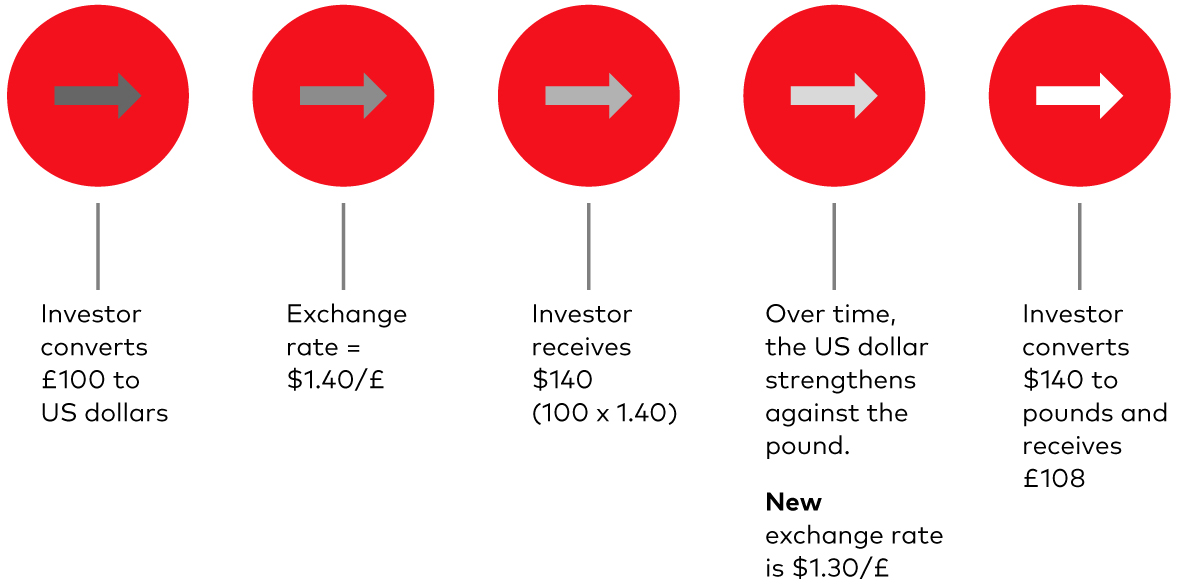 Source: Vanguard. Note: Conversion rounded to the nearest pound
If the overseas currency weakens, your return is decreased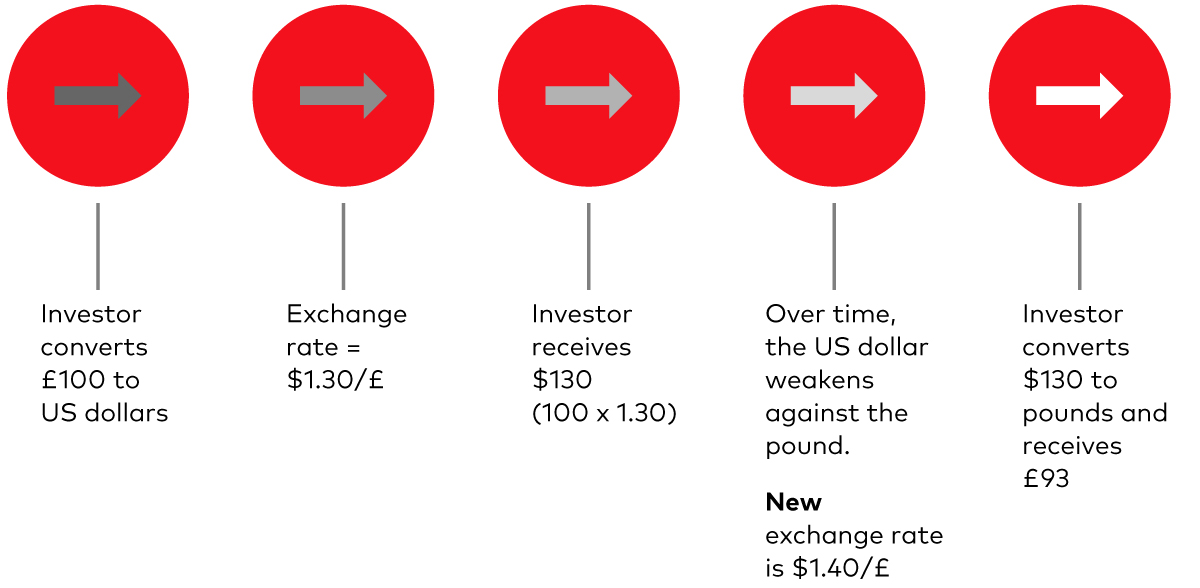 Source: Vanguard. Note: Conversion rounded to the nearest pound
Cumulative impact
Currency movements can often swing both ways due to changes in a myriad of factors, including the economic cycle and interest rate expectations.
The cumulative effects can be major too, as the chart below shows, with sterling-based investors in US shares enjoying a 27% better return than their US dollar counterparts since end-2003.
Growth of £1,000 invested in the S&P 500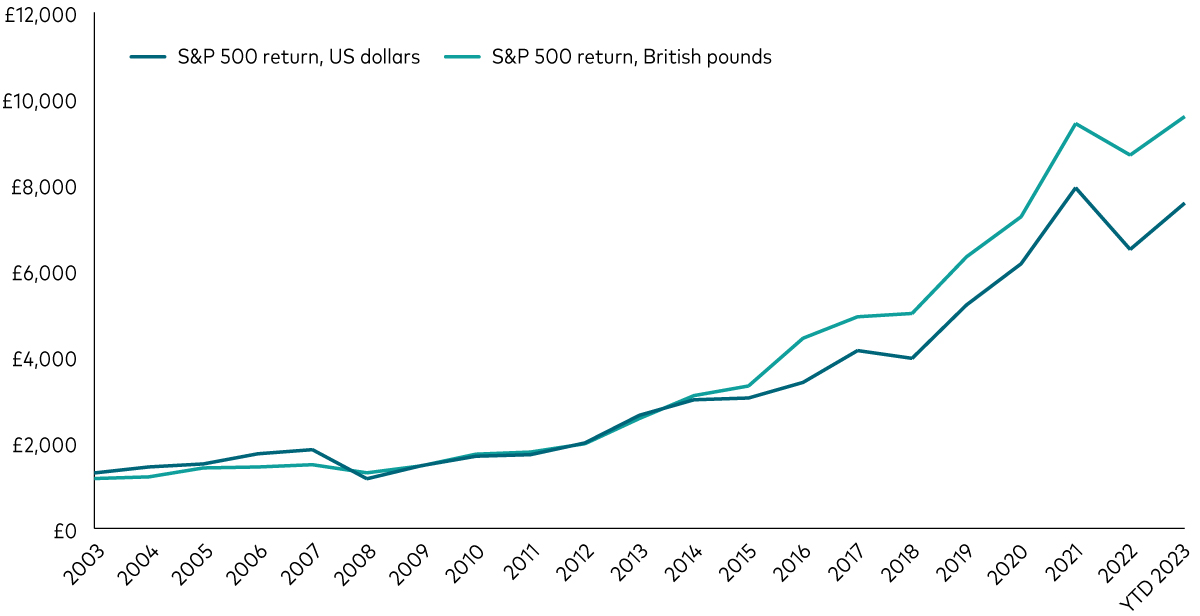 Past performance is not a reliable indicator of future results.
Source: Vanguard calculations, using data from Morningstar, Inc. Note: Gross returns are calculated on a total return basis with dividends reinvested. As of 30 June 2023.
That strong performance has largely been driven by a dramatic decline in the pound-dollar exchange rate, which stood at more than $2.00/£ as recently as 2007 but briefly traded below $1.04/£ late last year.
More recently, it's been trading at around $1.27.
Hedging
These currency fluctuations can be significant in the short term. The good news, though, is that these fluctuations tend to even themselves out in the long run.
There is also something you can do, through a process known as 'currency hedging', if currency movements make your investments jump around more than you would like.
This can be especially important in the case of bond investments, which are often there to provide ballast and balance to an investment portfolio. It's why, to reap the true benefits of a diversified bond investment1 and to remove the additional uncertainty around foreign exchange rates, the majority of our bond funds and investments are usually hedged into an investor's home currency.
Shares, by contrast, are inherently more volatile than bonds. They are there to drive your investment returns.
So being invested in them means being comfortable with some higher level of risk, which is why it's more normal for share investments to be left unhedged2.
Find out more about Vanguard's global range of funds, including index funds, actively managed funds and ready-made portfolios that combine shares and bonds.
1 Currency hedging usually involves a separate and offsetting transaction that is undertaken in the foreign exchange market, often using complex financial instruments such as forward contracts or other derivatives, to eliminate any currency exposure that an investor has from holding an asset denominated in another currency other than their own.
2 Hedging currency risks with shares can also lead to higher levels of portfolio volatility, depending on the stock market involved. This is because the relationship between overseas shares and foreign exchange markets varies over time, depending on an investor's home market. For more see: Roberts, Daren R; Paul M. Bosse, CFA; Scott J. Donaldson, CFA, CFP ®; Matthew C. Tufano, 2018, The portfolio currency-hedging decision, by objective and block by block, Vanguard Research, August 2018.
Investment risk information
The value of investments, and the income from them, may fall or rise and investors may get back less than they invested.
Important information
This article is designed for use by, and is directed only at, persons resident in the UK.
The information contained in this article is not to be regarded as an offer to buy or sell or the solicitation of any offer to buy or sell securities in any jurisdiction where such an offer or solicitation is against the law, or to anyone to whom it is unlawful to make such an offer or solicitation, or if the person making the offer or solicitation is not qualified to do so. The information in this article does not constitute legal, tax, or investment advice. You must not, therefore, rely on the content of this document when making any investment decisions.
Issued by Vanguard Asset Management Limited, which is authorised and regulated in the UK by the Financial Conduct Authority.
© 2023 Vanguard Asset Management Limited. All rights reserved.