Nothing lasts forever, not even tinned food – and certainly not bull markets.
In fact, history shows that bull markets – which is when stock markets rise by 20% or more over an extended period – are routinely punctuated by their very opposite, bear markets, as the chart below shows.
Corrections of 10% or more are even more frequent, as you would expect, with 15 in all so far since the start of 1980, including the wild ride at the height of the first pandemic wave in early 2020, when the losses, briefly, threatened to become another bear market1, 2.
So it's hardly a leap of the imagination to expect more corrections in the future, even though we remain positive about the outlook for shares in the long-term.
Global stock prices, GBP
1 January 1980 to 6 January 2022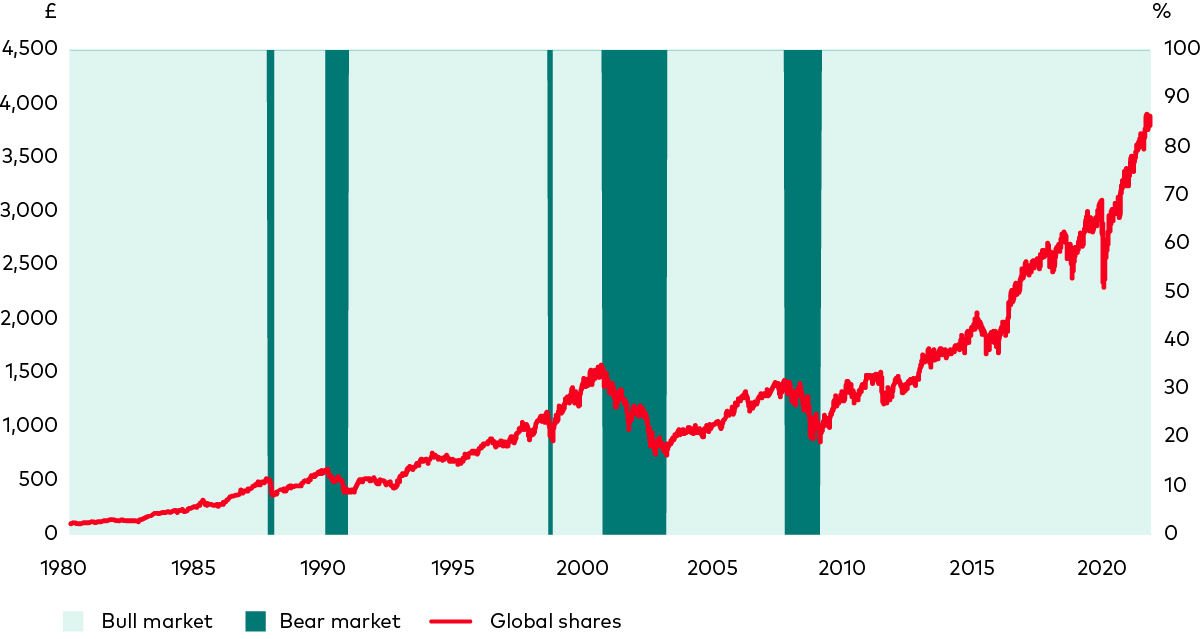 Source: Vanguard analysis based on the MSCI World Index from 1 January 1980 to 31 December 1987, and the MSCI All-Country World Index thereafter. Both indices are denominated in British pounds.
Past performance is no guarantee of future returns. The performance of an index is not an exact representation of any particular investment, as you cannot invest directly in an index.
Given the strong gains in share prices witnessed globally in just the last 20 months, and the bull market which has been running for over a decade, now is not the time to be complacent. The view of our experts is that, although positive, the outlook for investment returns is not as strong as it once was, given the expected gradual removal of central bank and government support for markets as the Covid-19 pandemic, hopefully, begins to ebb.
At some point the trend will turn. We just don't know when or how.
Built-in defences
But then, investors should never be complacent. None of us can see into the future, not even the economists and financial experts whose job it is to analyse trends and cast light on what might happen next in markets – a point underlined recently by my colleague Mark Fitzgerald in his review of 2021.
As such, investors should always expect the unexpected with an appropriate investment strategy that is shaped by their goals and built for the long term, and then put their faith in that strategy by keeping their discipline when markets do eventually turn against them.
It's the Vanguard way of investing, one encapsulated by our four investment principles.
So, ask yourself: Is your investment portfolio fit for purpose? Is your investment strategy right now the most appropriate for your own circumstances?
The best contingency planning is to ensure your portfolio is properly diversified with the right balance of shares and bonds. And in this regard, the start of a new year is as good a time as any to review your options.
The good news, despite a more challenging backdrop as interest rates begin to rise and share valuations in some markets get stretched, is that our return expectations remain positive. Based on Vanguard's modelling3, we think UK investors can expect 10-year annualised returns ranging from 4.6% to 6.6% in the case of UK shares and 2.8% to 4.8% for those elsewhere in the world.
Just remember, though, that markets don't move in straight lines. Behind these annualised numbers lie a multitude of possibilities; there will be good years when share values jump significantly, and other years when they don't. Rarely is there an average year.
Your investments will not always behave the way you want them to. So, in line with our principles, make sure they are balanced and then trust the process.
Griffin Tory also contributed to this article.
1 The March 2020 downturn was reported in some circles as a 'bear market'. However, at Vanguard we define a bear market as something that lasts at least two months. On that score, in sterling terms, it just misses out.
2 Our count of corrections excludes those that turned into bear markets. We also count corrections that occur after a bear market has recovered from its trough even if stock prices have yet to reach their previous peak.
3 The Vanguard Capital Markets Model® (VCCM) is a proprietary financial simulation tool developed and maintained by Vanguard's primary investment research and advice teams. Its projections are hypothetical in nature, do not reflect actual investment results, and are not guarantees of future results. The model forecasts distributions of future returns for a wide array of broad asset classes and are derived from 10,000 simulations for each modelled asset class. Simulations are as of 30 September 2021. Results from the model may vary with each use and over time.
Investment risk information
The value of investments, and the income from them, may fall or rise and investors may get back less than they invested.
Past performance is not a reliable indicator of future results. Any projections should be regarded as hypothetical in nature and do not reflect or guarantee future results.
Other important information
This article is designed for use by, and is directed only at, persons resident in the UK.
The information contained in this article is not to be regarded as an offer to buy or sell or the solicitation of any offer to buy or sell securities in any jurisdiction where such an offer or solicitation is against the law, or to anyone to whom it is unlawful to make such an offer or solicitation, or if the person making the offer or solicitation is not qualified to do so. The information in this article does not constitute legal, tax, or investment advice. You must not, therefore, rely on the content of this article when making any investment decisions.
Issued by Vanguard Asset Management, Limited which is authorised and regulated in the UK by the Financial Conduct Authority.
© 2022 Vanguard Asset Management, Limited. All rights reserved.