Once you know your investment goal, the next step is to devise an appropriate investment strategy to achieve that goal. This means finding the right 'balance' – Vanguard's second investment principle.
In my last article, I discussed the trade-offs between either keeping your savings in cash or investing them. The conclusion was that there is safety in cash up to a point: your money in pounds and pence might not go down in the long run, but it will be worth less due to inflation.
However, did you know that different types of investments also have their own trade-offs?
Instinctively, most of us do. We all know that investing in a bond guaranteed by the UK government is probably less likely to produce the kind of returns that might flow if we invested in a friend's new restaurant. But we also know that the chances of losing all our money would be far lower.
So different investments give you different levels of risk and potential reward, and it's the task of every self-directed investor to find the level most appropriate for them.
That means finding the right 'balance' in your portfolio between the two main types of 'asset class' – namely, shares and bonds. This is because bonds and shares have historically performed differently.
Although government bonds have historically paid a better return than cash, they have delivered a lower return than shares in the long run. On the other hand, shares are less stable than bonds: they tend to have worse bad years and better good years.
Finding your level
Research shows that investing in the right mix of shares and bonds could have a bigger impact on your returns than anything else you do1. But how do you decide what that mix should be?
The answer depends on two factors: time and personal preference.
Broadly speaking, the more time you have to reach your goal, the more time, in theory, you have to ride out any market volatility.
When it comes to retirement planning that means thinking about your career –how long you think you will continue to earn a wage before having to lean on your investments for a living.
So the further away you are from your retirement, the more you should consider investing in shares. Conversely, the closer to retiring you are, the more you should consider switching to bonds.
Our Target Retirement Funds (TRF), for example, which are designed specifically for pension saving, follow a glide path that adjusts this mix automatically as investors edge closer to their targeted retirement age. Up to the age of 43 (if they intend to retire at age 68), they are 80% invested in shares and 20% invested in bonds. Over the following 32 years, this ratio gradually changes to 30% shares and 70% bonds.
Glide paths for Vanguard's Target Retirement Funds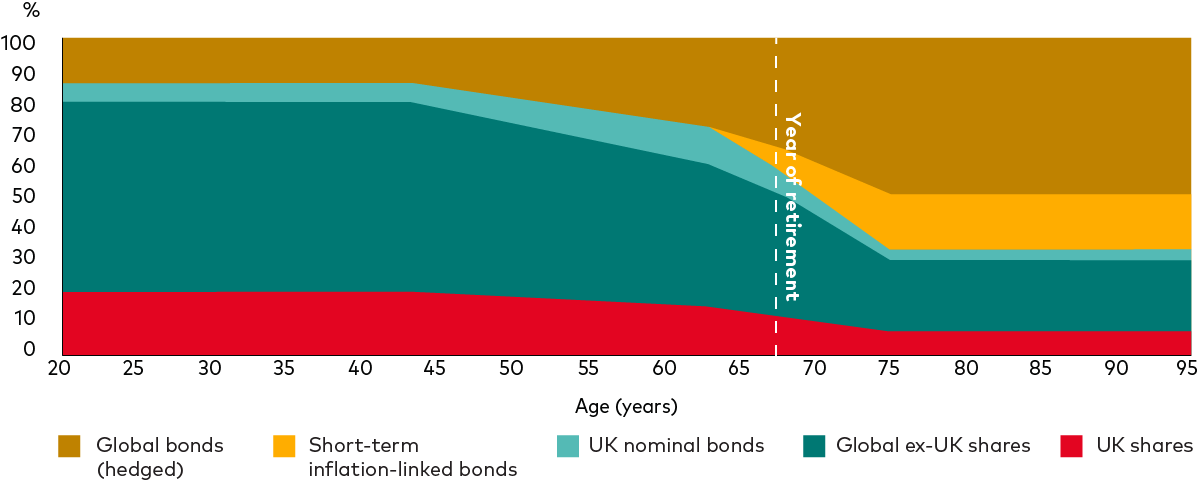 Notes: Figures assume that the particular TRF chosen has a projected target retirement age of 68. Source: Vanguard.
But people are also different, regardless of their age. They may instinctively be more adventurous or conservative than our TRF glide path suggests. They may prefer to be 100% invested shares at a younger age, for example, or they may prefer a higher allocation to bonds in middle-age.
The point is to find the balance between shares and bonds that feels most right for you.
Diversification benefits
Spreading your portfolio across shares and bonds is not the only diversification benefit you could seek. Investing in funds rather than individual shares, for example, delivers diversification benefits too by spreading your money across many different companies. If some companies perform badly, you're compensated by others doing better because you're invested in the wider market.
And the more global your exposure, the greater these diversification benefits. The Vanguard FTSE All-World UCITS ETF, for example, gives you exposure to more than 3,800 different shares, while the Vanguard Global Bond Index Fund has more than 15,000 individual bonds2.
Just remember, once you're happy with your global mix of bonds and shares, to occasionally rebalance your portfolio, depending on how markets behave in the interim.
If, for example, your share funds fare better than your bond funds for an extended period, then the percentage of your overall portfolio made up by them will also inevitably grow. To return to your targeted ratio of shares and bonds you would therefore have to either switch some share fund holdings into bonds or divert more of your new contributions to your bond funds.
Alternatively, you can invest in one of Vanguard's ready-made LifeStrategy portfolios and let our experts automatically maintain your desired share-bond balance for you.
In the third part of this series, I will focus on the biggest potential drag on your returns: your costs.
1 A now-famous study by Brinson Hood and Beebower, published in 1986, looking at returns for 91 US pension funds from 1974 to 1983, found that roughly 80% of the variance of returns came from their strategic asset allocation. Since then, many other studies have come to similar conclusions, including the Vanguard research paper, 'The global case for strategic asset allocation and an examination of home bias' (Scott et al., 2016), which looked at the monthly returns for 743 UK balanced funds from January 1990 through September 2015.
2 As at 30 November 2022.
Investment Risk Information
The value of investments, and the income from them, may fall or rise and investors may get back less than they invested.
The Vanguard Target Retirement Funds may invest in Exchange Traded Fund (ETF) shares. ETF shares can be bought or sold only through a broker. Investing in ETFs entails stockbroker commission and a bid- offer spread which should be considered fully before investing.
Important Information
This article is designed for use by and is directed only at persons resident in the UK.
The information contained in this article is for educational purposes only and is not a recommendation or solicitation to buy or sell investments. If you have any questions related to your investment decision or the suitability or appropriateness for you of the products described in this article, please contact your financial adviser.
For further information on the fund's investment policies and risks, please refer to the prospectus of the UCITS and to the KIID before making any final investment decisions. The KIID for this fund is available, alongside the prospectus via Vanguard's website https://www.vanguardinvestor.co.uk.
Vanguard Investment Series plc and Vanguard Funds plc have been authorised by the Central Bank of Ireland as a UCITS and has been registered for public distribution in certain EEA countries and the UK. Prospective investors are referred to the Funds' prospectus for further information. Prospective investors are also urged to consult their own professional advisers on the implications of making an investment in, and holding or disposing shares of the Funds and the receipt of distributions with respect to such shares under the law of the countries in which they are liable to taxation.
The Manager of Vanguard Investment Series plc and Vanguard Funds plc is Vanguard Group (Ireland) Limited. Vanguard Asset Management, Limited is a distributor of Vanguard Investment Series plc and Vanguard Funds plc.
The Authorised Corporate Director for Vanguard LifeStrategy® Funds ICVC is Vanguard Investments UK, Limited. Vanguard Asset Management, Limited is a distributor of Vanguard LifeStrategy Funds ICVC.
London Stock Exchange Group companies include FTSE International Limited ("FTSE"), Frank Russell Company ("Russell"), MTS Next Limited ("MTS"), and FTSE TMX Global Debt Capital Markets Inc. ("FTSE TMX"). All rights reserved. "FTSE®", "Russell®", "MTS®", "FTSE TMX®" and "FTSE Russell" and other service marks and trademarks related to the FTSE or Russell indexes are trademarks of the London Stock Exchange Group companies and are used by FTSE, MTS, FTSE TMX and Russell under licence. All information is provided for information purposes only. No responsibility or liability can be accepted by the London Stock Exchange Group companies nor its licensors for any errors or for any loss from use of this publication.
Neither the London Stock Exchange Group companies nor any of its licensors make any claim, prediction, warranty or representation whatsoever, expressly or impliedly, either as to the results to be obtained from the use of the FTSE or Russell indexes or the fitness or suitability of the indexes for any particular purpose to which they might be put.
Issued by Vanguard Asset Management Limited, which is authorised and regulated in the UK by the Financial Conduct Authority.
© 2022 Vanguard Asset Management Limited. All rights reserved.