What do sterling's sharp falls mean for UK investors? The answer, in general terms, is that it depends – on how exactly you are invested.
Because if you're globally diversified – not only are your investment risks spread across, potentially, thousands of different individual shares and bonds, they're also spread across a range of different currencies.
Consider, for example, the FTSE All-World index, a proxy for global shares. Did you know that the UK stock market comprises less than 4% of it1?
In other words, more than 96% of this index is priced in foreign currencies – like the US dollar, euro or Japanese yen – which then need to be converted back into pounds sterling for UK investors. So, all other things being equal, the weaker the pound, the more pounds you should get per unit of foreign currency.
It's why the FTSE All-World index – despite it being a difficult year for world markets generally – has lately done much better in sterling terms than it has done when measured in US dollars, as the chart below shows.
How the weak pound has helped to protect global share gains, limit losses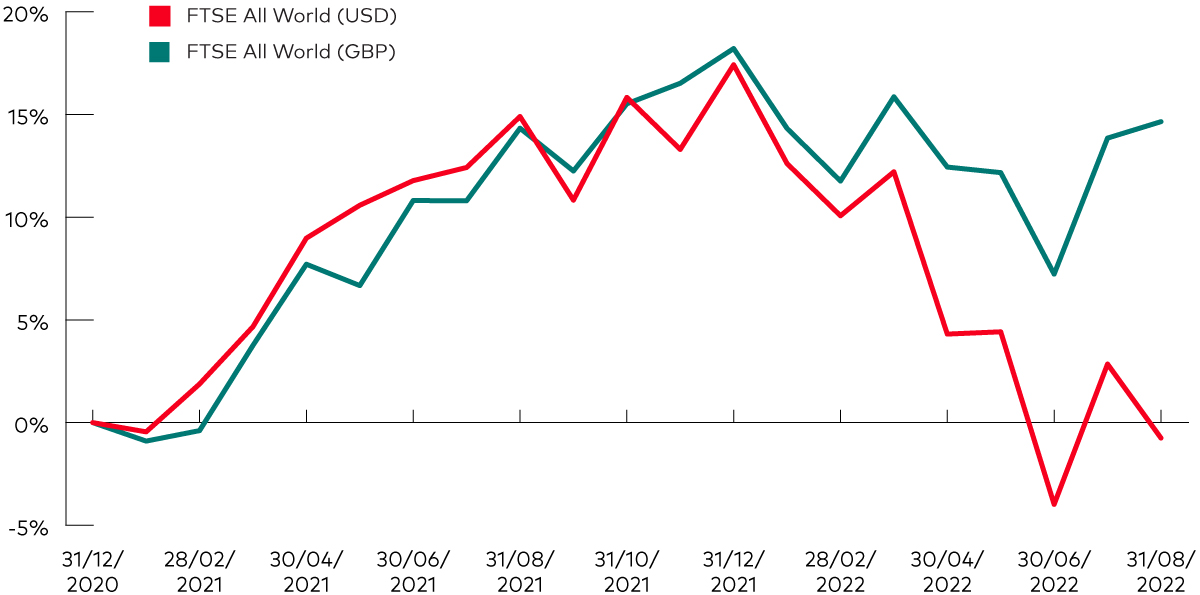 Source: Factset, as of 31 August, 2022. Note: Calculated on a net return basis.
How it works
To understand how foreign exchange markets can impact your returns, consider how each step of the investment process might work in practice.
If you invested in a fund tracking a US index such as the S&P 500, we would convert your money into US dollars in order to invest in the underlying companies. If, subsequently, you instructed us to sell this fund, we would then convert the dollar proceeds received after selling the underlying company shares back into pounds before depositing them in your account.
Whether you ended up with fewer pounds or more than you started would, of course, be determined in the main by how well the S&P 500 has performed in the intervening period. But it would not be the only influence because the value of the dollars invested would also fluctuate relative to sterling, independently of the index, creating an additional source of potential return – both positive and negative.
To illustrate this, consider the diagrams below, which show what would happen to an investor's proceeds if the pound-dollar exchange rate strengthened or weakened between buying and selling a fund that tracks the S&P 500 index. For the sake of simplicity, the performance of the S&P 500 is assumed to be flat in the intervening period. We don't account for costs either.
How sterling strength against the US dollar can drag on your US investment return

How sterling weakness against the US dollar can boost your US investment return
Source: Vanguard calculations. Note: Conversions rounded to the nearest pound.
As you can see, if the value of the dollar increases relative to the pound in the intervening period, you get more pounds per dollar when it's time to sell a US investment, giving your return a boost. But if the dollar weakens against the pound, you get fewer pounds back.
And the same principle holds for all other overseas investments denominated in other currencies that also have to be exchanged back into sterling.
Further twist
It's also worth remembering that a weak pound doesn't necessarily mean a weak UK stock market.
On the contrary, sometimes it can lift UK shares, in large part because many of Britain's biggest companies generate a lot of their earnings outside the UK. A sharp fall in the UK exchange rate can, therefore, translate into a sharp jump in their sterling-denominated profits since all those dollars and so forth earned overseas are suddenly worth more pounds.
Economic events such as sharp changes in the exchange rate certainly affect companies, and therefore the value of investments in their shares. That said, it is extremely difficult to predict the exact effect of any single event, no matter how forceful.
For most investors, most of the time, rather than trying to predict the market, the best course is to stick to a plan and let time do its work. And that includes making sure your holdings are globally diversified.
1 Factsheet, FTSE All-World Index. 31 August 2022.
Investment risk information
The value of investments, and the income from them, may fall or rise and investors may get back less than they invested.
Important information
This article is designed for use by, and is directed only at, persons resident in the UK.
The information contained in this article is not to be regarded as an offer to buy or sell or the solicitation of any offer to buy or sell securities in any jurisdiction where such an offer or solicitation is against the law, or to anyone to whom it is unlawful to make such an offer or solicitation, or if the person making the offer or solicitation is not qualified to do so. The information in this article does not constitute legal, tax, or investment advice. You must not, therefore, rely on the content of this article when making any investment decisions.
Issued by Vanguard Asset Management Limited, which is authorised and regulated in the UK by the Financial Conduct Authority.

© 2022 Vanguard Asset Management Limited. All rights reserved.