The journey from post-pandemic optimism to growing economic gloom has been a brutal one, accentuated by the war in Ukraine. The growing worry is that inflation could yet escape the control of central banks unless they act fast by raising interest rates and slowing economic growth.
Investment markets haven't taken it well.
In the United States we have already moved from 'bull market' to 'bear market'1. Markets in Europe and Asia have also been weak. Doubtless many of you will be nursing losses.
But that's the nature of investing; the value of your investments can sometimes fall as well as rise. It's why Vanguard's preferred approach to investing is a strategic one: focus on what you can control, such as your costs, and build a portfolio that is balanced, diversified and shaped around your goals.
It's also why we lay great store by the fourth of our investment principles, which is to keep your discipline. Staying the course is always important but it's especially important at times like these as it ensures you don't become a hostage to your emotions.
There will always be periods of weakness; I've seen it before – the dot-com bubble and the global financial crisis, in particular, spring to mind – and I will doubtless see it again. And from my time as an adviser and planner, I've seen first-hand the expensive errors that investors can make by realising losses that could have been avoided and also missing out when markets recover.
The diagram below illustrates the rollercoaster of emotions that investors can go through on the way up and on the way down – from a euphoric 'to the moon!' to a despondent 'how could I've got it so wrong?', and back.
Emotional rollercoaster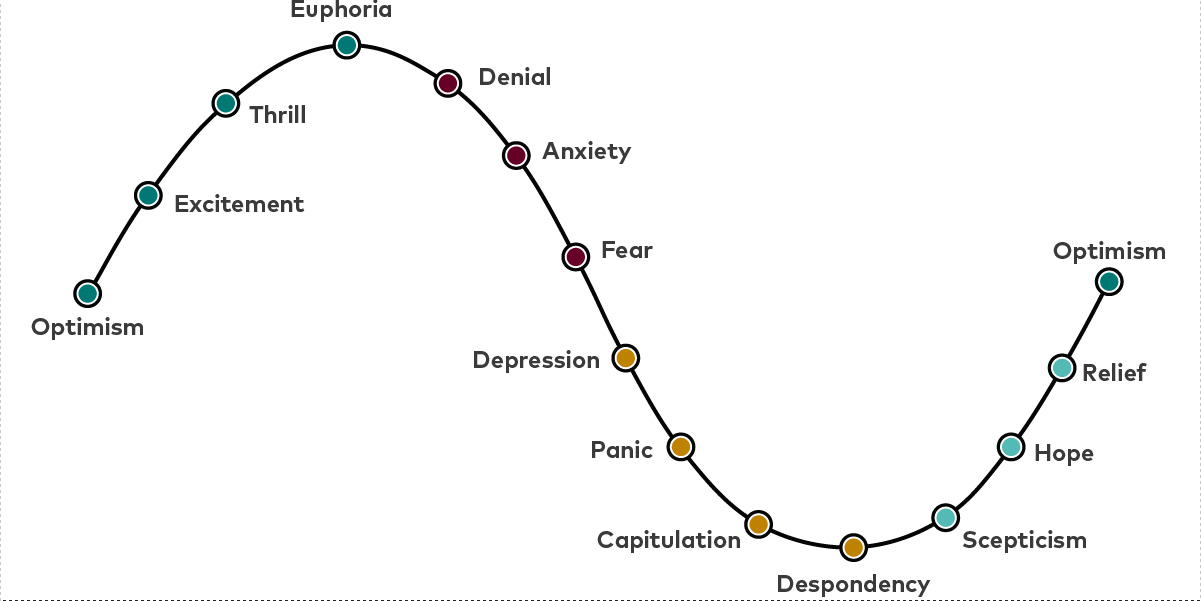 Source: Vanguard
At different times, this can manifest itself in different investor behaviours. When markets are falling, some might buy the dip (a strategy that works well in rising markets) and then stop, unnerved by even larger declines. Anxiety and fear are common emotions that investors can experience. There is also sometimes a denial stage, ignoring markets and what is going on, burying their heads in the sand as they don't want to face the reality.
When things get really bad we sometimes hear of 'capitulation', when investors literally throw the towel in and sell up, nursing large losses. These investors have had enough and tend not to enter markets again for extended periods, missing out on future rallies.
Or when markets are rising, there is tendency to login to their account more often and extrapolate from recent trends to see how rich they could become. It's at this point of euphoria, that exuberance may take over and additional sums are invested in the market, just as it's about to fall.
At Vanguard, we don't think such an ad hoc approach improves an investor's chances of investment success in the long run. Timing markets is hard. As humans we are driven by fear and greed and when our emotions take over our investing brain, it will generally lead to inferior outcomes, especially when you consider that downturns are historically more infrequent than market rallies.
Consider the chart below, which stretches back more than 40 years and contrasts the number of global downturns seen over this period, including so-called 'bear markets', with the brighter longer-term performance of global stock markets.
Market downturns barely register when taking a long-term perspective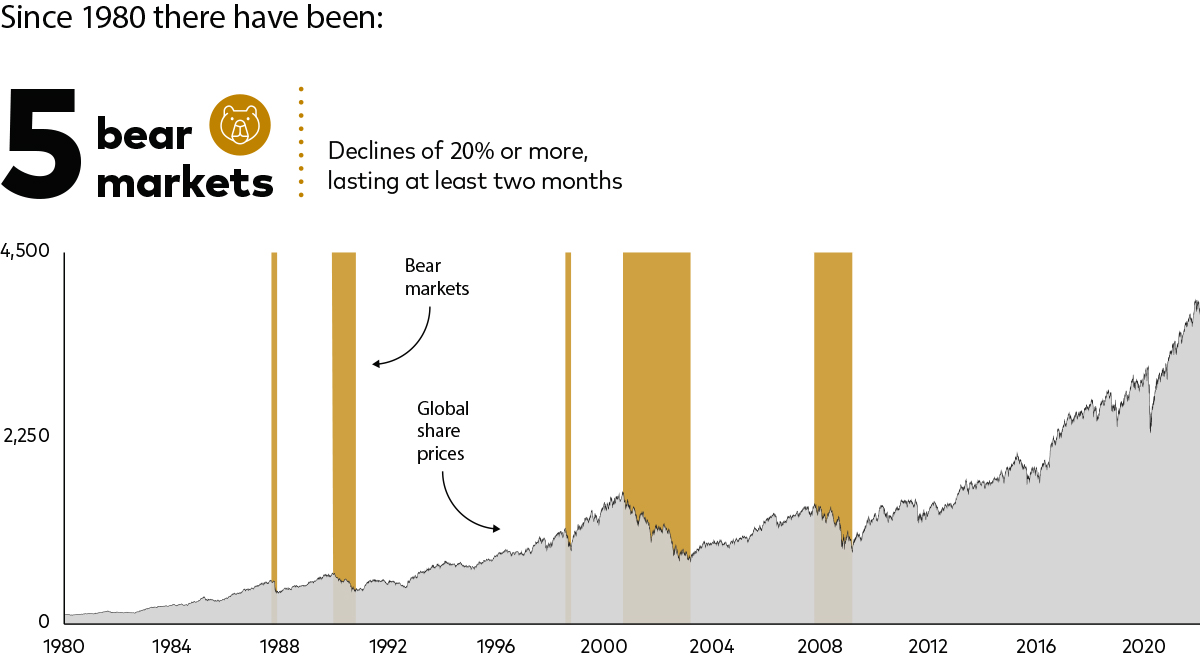 Past performance is no guarantee of future returns.
Source: Vanguard analysis based on the MSCI World Index from 1st January 1980 to 31 December 1987, and the MSCI AC World Index thereafter. Both indices are denominated in GBP. Our count of corrections excludes those that turn into a bear market. It also excludes the particularly sharp but short-lasting correction seen in early-2020 during the first wave of Covid-19. Data as at 31 December 2021.
None of us know what the future holds. What we do know is that markets move in response to an unfathomable number of ever-changing variables. At the same time, we know that investing in shares and bonds has a strong and lengthy track record of delivering inflation-beating returns in the long run2.
It's why we believe time in the market will always be more important and effective for investors than trying to time the market. It's also why investors experiencing losses now ought to stay calm and remind themselves of their long-term goals.
For those of you with direct debits, it's also comforting to know that your different monthly entry points will average themselves out over time, potentially boosting your long-term returns once markets do eventually recover.
1 A bear market is, technically, when the stock market falls by more than 20% from its last peak. A bull market is when it rises by 20% or more from its last low point. Colloquially, the terms are often also used to describe periods of sustained gains or losses.
2 Donaldson, Scott. J CFA, CFP®; Harshdeep Ahluwalia; Giulio Renzi-Ricci; Victor Zhu, CFA, CAIA; Alexander Aleksandrovich, CFA. 'Vanguard's framework for constructing globally diversified portfolios', Vanguard Research, June 2021.
Investment risk information
The value of investments, and the income from them, may fall or rise and investors may get back less than they invested.
If you are not sure of the suitability or appropriateness of any investment, product or service you should consult an authorised financial adviser. Please note this may incur a charge.

Important information
This article is designed for use by, and is directed only at, persons resident in the UK.
The information contained in this article is not to be regarded as an offer to buy or sell or the solicitation of any offer to buy or sell securities in any jurisdiction where such an offer or solicitation is against the law, or to anyone to whom it is unlawful to make such an offer or solicitation, or if the person making the offer or solicitation is not qualified to do so.
The information in this article does not constitute legal, tax, or investment advice. You must not, therefore, rely on the content of this article when making any investment decisions.
Issued by Vanguard Asset Management Limited, which is authorised and regulated in the UK by the Financial Conduct Authority.
© 2022 Vanguard Asset Management Limited. All rights reserved.