As the end of the 2022-23 tax year approaches, many investors will be looking to take advantage of the tax breaks available to them – particularly on individual savings accounts (ISAs).
ISAs were introduced by the UK government in 1999 to encourage people to save or invest some of their disposable income. There are two main types of ISA – cash ISAs and stocks and shares ISAs – with different risks and rewards. At Vanguard, we provide stocks and shares ISAs.
You can't carry over any unused ISA allowance into the following tax year, so here are the eight most important things you need to know about investing in an ISA:
1. There is an annual limit to the amount you can invest in ISAs
£20,000 is the most you can currently invest in an ISA in a tax year, which runs from 6 April to 5 April the following year1. This overall ISA allowance covers the different types of ISA, so if you invest £10,000 in a cash ISA in a single tax year, you can only invest a maximum of £10,000 in your stocks and shares ISA in the same year. As the limit refreshes in early April each year, you can't carry over any unused allowance into the following tax year.
2. There are tax advantages to investing in ISAs
Investments held outside of an ISA in a general account are subject to income tax if they generate dividends or interest, and you could also be liable for capital gains tax (CGT) if you make a profit when you sell any of these assets.
In the 2022-23 tax year, everyone has a tax-free CGT allowance of £12,300, but this will fall to £6,000 from April 2023 and just £3,000 the following year. Given that investments held in stocks and shares ISAs are exempt from CGT, it can be beneficial to invest some of your disposable income in an ISA. Just remember that investing carries some risk, so the value of your investments can decline as well as rise.
3. Costs matter
Investing through an ISA means saving on tax. However, there is still the not-so-small matter of your costs, which includes the ongoing charges figure (OCF) of the funds you invest in as well as the account fee of your provider. While a difference of one or one and a half percentage points might not seem like much at first glance, over time it can bite deep into your returns as it compounds (for more on compounding and what it is, see our guide).
The chart below illustrates the difference costs can make using the hypothetical example of someone who invests the maximum £20,000 allowed each year and earns an average 5% annual return on their investments before costs. In one scenario, where the costs total 0.5%, the investor's capital passes the million mark after around 26 years. In the second, where the costs total 1.75%, it's more like 30 years.
The potential impact of investment costs over time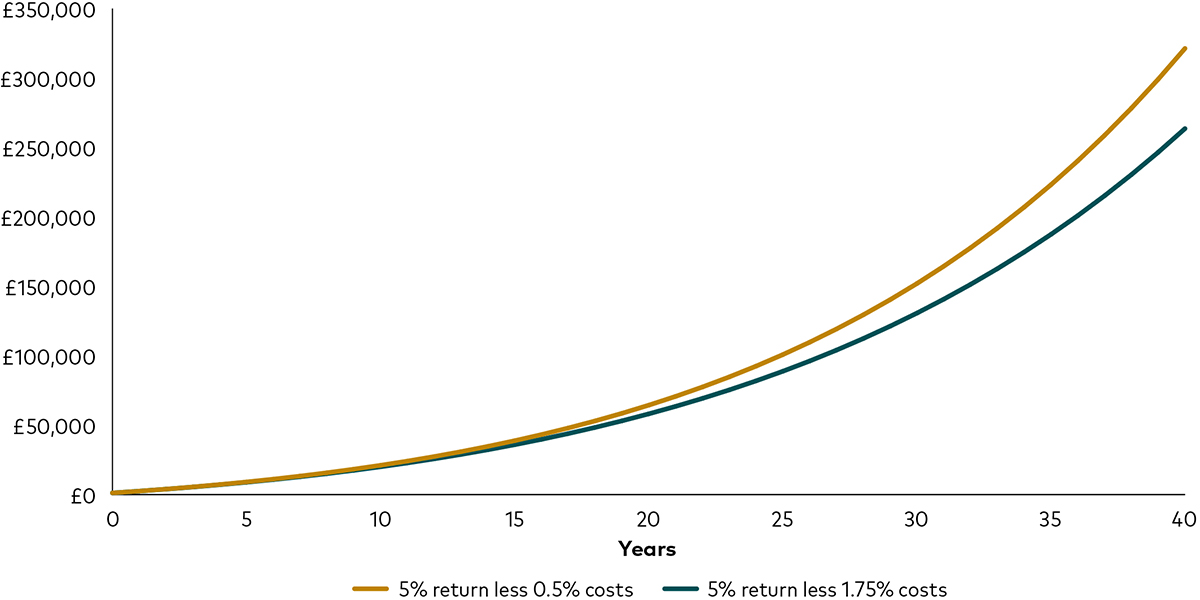 Source: Vanguard calculations, assuming maximum £20,000 invested each year with average annual growth of 5% minus total costs of 0.5% or 1.75%.
With a platform fee of just 0.15% and OCFs that average 0.20% across all our funds (with more than 80 to choose from), you can cut your costs still further with Vanguard – whether you choose to build your own portfolio or pick one of our ready-made multi-asset portfolios.
Alternatively, if you are looking for expert guidance, there is also the Vanguard Managed ISA, where we do all the hard work for you for a total cost of 0.6% a year. This covers a management fee as well as the account fee plus all your fund costs (including any variable transaction fees).
The minimum amount needed to open a Vanguard stocks and shares ISA or Managed ISA is £500. The minimum regular monthly payment is £100.
4. ISAs can be transferred between providers
If you have an ISA with another provider, including a cash ISA you can transfer its holdings to a Vanguard stocks and shares ISA. To do this, you will need to provide us with your personal information and details about the ISA you want to transfer, and then we can make the switch (usually in less than 30 business days).
Just remember that transferring from a cash ISA to a stocks and shares ISA involves taking on more risk with your money. When transferring between different stocks and shares ISAs, you may also have to sell some holdings into cash first before initiating the transfer. And you may be out of the market for a time during a transfer.
5. You can withdraw your money from a flexible ISA at any time
Vanguard's ISAs are flexible so you can withdraw cash and then put it back in during the same tax year without reducing that year's allowance. There is no minimum withdrawal amount or minimum account balance.
However, please bear in mind that ISAs are designed for longer-term saving so, if you withdraw any money, you are reducing the amount you have invested in the market. This could limit the potential for that money to compound over time so it may not generate the expected returns.
6. The earlier you start investing, the better
Even if you are unable to take advantage of the full £20,000 annual allowance, it is worth investing as much as you can afford. Through the power of compounding, you will get returns on the money you invest as well as on any gains you make, so the sooner you set up your stocks and shares ISA, the greater the potential benefits.
7. Junior ISAs are available for anyone under the age of 18
Junior ISAs must be set up by an adult with parental responsibility for a child and have an annual allowance of £9,0002. They are potentially an excellent way for them to fund themselves through higher education, for example, or to start saving for a deposit on a house. When the child turns 18, the Junior ISA automatically converts into an adult cash or stocks and shares ISA in their name.
8. ISAs can be inherited after you pass away
ISAs can be left to a surviving partner without forfeiting the tax benefits, and they can add the funds to their own ISA without being subject to the annual £20,000 allowance. The surviving spouse or civil partner is entitled to an additional permitted subscription up to the value of the deceased person's ISA.
However, it's worth noting that ISAs may be subject to inheritance tax.
Read more on the Vanguard ISA here.
1 Applies to both 2022/23 and 2023/24. Applicants must be at least 18 years old and a UK resident.
2 As of 2022/23 and 2023/24.
Investment risk information
The value of investments, and the income from them, may fall or rise and investors may get back less than they invested.
The eligibility to invest in an ISA depends on individual circumstances and all tax rules may change in future.
If transferring, you will be out of the market while your investments are being transferred, so you could miss out on any increase in the value of your investments should markets rise. Should markets fall the value of your investment will remain the same.
Any tax reliefs referred to in this document are those available under current legislation, which may change, and their availability and value will depend on your individual circumstances. If you have questions relating to your specific tax situation, please contact your tax adviser.
Important information
If you have any questions related to your investment decision or the suitability or appropriateness for you of the product[s] described in this document, please contact your financial adviser.
This article is designed for use by, and is directed only at, persons resident in the UK. The information contained in this article is not to be regarded as an offer to buy or sell or the solicitation of any offer to buy or sell securities in any jurisdiction where such an offer or solicitation is against the law, or to anyone to whom it is unlawful to make such an offer or solicitation, or if the person making the offer or solicitation is not qualified to do so.
The information in this article does not constitute legal, tax, or investment advice. You must not, therefore, rely on the content of this document when making any investment decisions.
Issued by Vanguard Asset Management Limited, which is authorised and regulated in the UK by the Financial Conduct Authority.
© 2023 Vanguard Asset Management Limited. All rights reserved.