The cheaper the product or service, the lower the quality? Not always. When it comes to investing, the opposite is often true.
This is because investing is a results game and cost is the biggest drag on performance. If, for example, a fund costs 1% a year to manage, that's 1% a year that your investment needs to make just to break-even. Any less and you lose money.
It's not just the ongoing charges figure (OCF)1 of each individual fund that you need to consider. There are also the annual fees charged by investment platforms and by self-invested personal pension (SIPP) and individual savings account (ISA) providers, as well as transaction costs. For some investors, there may be additional advisory or discretionary wealth management costs too.
Individually, the percentages may seem small. But together and over time they really add up through the power of compounding.
How costs kill
To see how costs can hurt your wealth, consider the following table. It shows £10,000 invested under five different annual cost scenarios. In each case, and to isolate the cost impact, we have assumed an investment return of zero – the equivalent of being charged for leaving your money under the mattress!
Look how an investor would lose a fifth of their money in just over a decade with annual costs of 2%. Pay 0.5%, though, and they would still have about 95% left over the same period. That's the difference costs can make.
The compounding effect of costs over time
| | | | | | |
| --- | --- | --- | --- | --- | --- |
| Total costs | 1 year | 2 years | 5 years | 10 years | 20 years |
| 0.50% | £9,950 | £9,851 | £9,752 | £9,511 | £9,046 |
| 1.00% | £9,900 | £9,703 | £9,510 | £9,044 | £8,179 |
| 1.50% | £9,850 | £9,557 | £9,272 | £8,597 | £7,391 |
| 2.00% | £9,800 | £9,412 | £9,039 | £8,171 | £6,676 |
| 2.50% | £9,750 | £9,269 | £8,811 | £7,763 | £6,027 |
Source: Vanguard.
Reducing your return
The profit of any business is the money that it makes once its costs are subtracted. It's no different with investing. Too often, though, investors confuse high investment costs with a higher-quality service. They may also be persuaded to pay up for investments that fared well in the recent past but may not do so in the future.
As such, they don't appreciate the degree to which costs could make or break their portfolios.
Mind the cost-performance gap
To illustrate how the gap in performance gets bigger over time, consider the chart below, this time of someone investing £500 a month. We assume an average 5% gross market return but, in the case of the red line, the investor has 0.5% costs. In the case of the turquoise line, they total 2%.
That's your money you could be giving away!
How £500 a month might grow under two different cost scenarios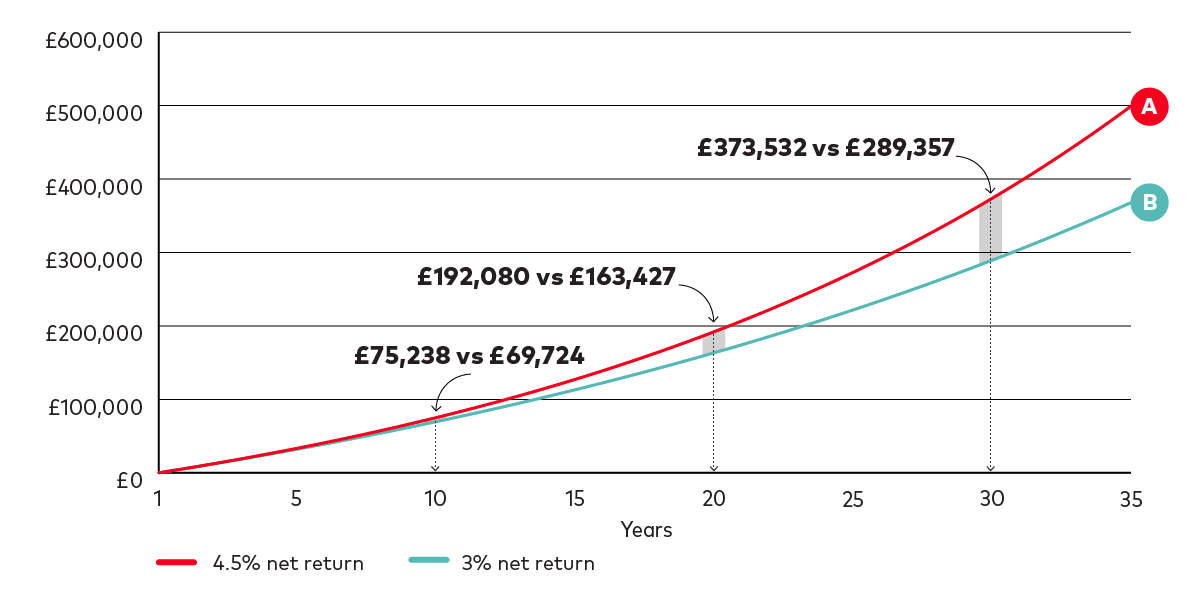 Source: Vanguard. Notes: Both scenarios assume a gross annual market return of 5%.
The costs total 0.5% in the case of scenario A and 2% in the case of scenario B.
The cost-quality fallacy
Vanguard has enabled investors to access markets at low cost for more than 45 years. In part, this is thanks to our provision of high-quality, low-cost index-tracking funds – funds that try to deliver the market return rather than beat the market.
Extensive studies show that low costs are the best predictor of superior returns in the long run3. It's an industry-wide observation reinforced by our own research, across both index and actively managed funds4.
You can't control the direction of markets or whether fund managers can beat the market, but you can improve your chances of success by investing through low-cost funds.
Your costs are one of the few things you can control. So check what you are currently paying. You may be pleasantly surprised about how much you could save.
1 This fee covers the day-to-day management costs and administrative expenses of the funds you invest in.
2 For comparison purposes, the Vanguard investor platform charges 0.15% annually, capped at a maximum £375. This covers any SIPP and ISA, as well as any general investment account, you hold with us. Our fund fees vary but average just 0.20%.
3 For example: Kinnel, Russel, 2010, How Expense Ratios and Star Ratings Predict Success; available at https://www.morningstar.com/articles/347327/how-expense-ratios-and-star-ratings-predict-succes.html
4 Dr. Jan-Carl Plagge and James J. Rowley Jr., CFA, March 2022, The case for low-cost investing, Vanguard Research.
Investment risk information
The value of investments, and the income from them, may fall or rise and investors may get back less than they invested.
Important information
This article is designed for use by, and is directed only at, persons resident in the UK.
If you are not sure of the suitability or appropriateness of any investment, product or service you should consult an authorised financial adviser. Please note this may incur a charge.
Issued by Vanguard Asset Management Limited, which is authorised and regulated in the UK by the Financial Conduct Authority.
© 2022 Vanguard Asset Management Limited. All rights reserved.