There's no getting away from the fact that £1,073,100 is a very large sum of money. But by saving and investing regularly in your pension, and taking maximum advantage of the available tax incentives, it's a more attainable sum than many people imagine.
That's fortunate news for those who make it since they may be living off this money for several decades. But it's also potentially bad news for them. Why? Because £1,073,100 is the pension lifetime allowance – and it's frozen at this level by the current UK government until 6 April 2026, which means more people may be caught out by it, raising an expected £1 billion in extra taxes for the government1.
Our analysis shows that if you're able to invest a growing proportion of your earnings over the course of a long and relatively successful career, you could potentially exceed the allowance by your 50s, as we show below – so it's definitely something that many of us will need to be aware of.
If you don't have the confidence to keep track of it yourself, our experts at Vanguard Personal Financial Planning will take it into account when managing your retirement savings.
In this article, we spell out the tax implications of going above your pension lifetime allowance – what it could cost you, in pounds. We'll also explain how you might breach this threshold without meaning to, so you can best plan ahead and avoid or minimise these charges once you finally retire.
High price
Go above the £1,073,100 threshold and you could be facing a hefty tax bill. How hefty depends on how you decide to draw your pension – although you may have to pay it anyway by the time you reach 75, whether you've started to take money from your pensions or not.
Take any excess as a lump sum and HMRC will want 55% of it; take it as income, and they'll gobble up 25%.
To illustrate what this might mean in practice, let's consider a couple of hypothetical examples.
Person A has a total pension pot worth3 £1.5 million, which puts them £426,900 over the lifetime allowance. Were they to withdraw this extra bit as a lump sum, a majority – £234,795 – would be taken in tax. Under current rules, they could take another 25% (£268,275) out of their remaining lifetime allowance tax-free, given them a total lump sum of £460,380 that they can take all at once or in smaller chunks and a pension pot of £804,825 to draw an income from.
Person B's overall pension is valued at £2.1 million, which means they've breached her lifetime limit by just over £1 million. They decide to draw down these excess benefits as income. So, here, their lifetime allowance charge would be £256,725, which would leave them with a tax-free lump-sum of £268,275 and a remaining pension £1,575,000 to lean on for income.
The key point to bear in mind here is that the lifetime allowance charge takes a sizeable chunk of their retirement savings in one hit. It is in addition to the tax that both our examples – like everyone else – would have to pay on the income they draw from their pensions4.
A second point to note is that you don't pay the lifetime allowance charge simply because the value of your pension assets has gone above the statutory threshold – not unless you've reached the age of 75. Before then, it can only be triggered by what is known as a 'benefit crystallisation event', which is when you formally decide on the method by which you'll draw your pension.
How you might get there
Having too much in your pension pot is, clearly, a happy dilemma to have. Given the punitive costs you could face, though, it's not something to dismiss lightly.
So how easy is it to fall foul of it? It depends on a number of factors, not least how much you earn and how much money is paid automatically into your workplace pensions over the course of your career, how much you also put away voluntarily into your pensions and how well your pension investments do.
To try to bring this to life, let's imagine a potentially lifelike savings scenario and work through some of the maths. The example might resonate, or it might not. But hopefully it'll help you to understand the challenge a bit more.
Let's imagine a graduate who earns an annual salary of £30,000, on average, from the time they leave university to the time they turn 30. During this period, a mandatory 8% of their gross earnings is paid into a workplace pension. The employer pays three of these percentage points, as required by law, but is also generous enough to match a further 2% in voluntary employee contributions made by its employees. Our graduate takes advantage of this. So, in total 12% of their gross salary is paid into their pension.
Our graduate's career picks up steam and their earnings progressively grow, along with their pension contributions. They may change job a few times, though not necessarily. They may also open a self-invested personal pension (SIPP) to complement the various workplace pension schemes they'll accumulate along the way. And by the time they've hit their 50s and are in senior management, they're on £90,000 on average and paying the maximum £40,000 allowed by the government each year into their pensions, tax-free.
The chart below shows the potential trajectory of this hypothetical person's pension pot under three different investment scenarios, depending on their average annual percentage return. In each case, we can see that they would be on the hook for the lifetime allowance charge if this was kept at current levels5.
Potential lifetime experience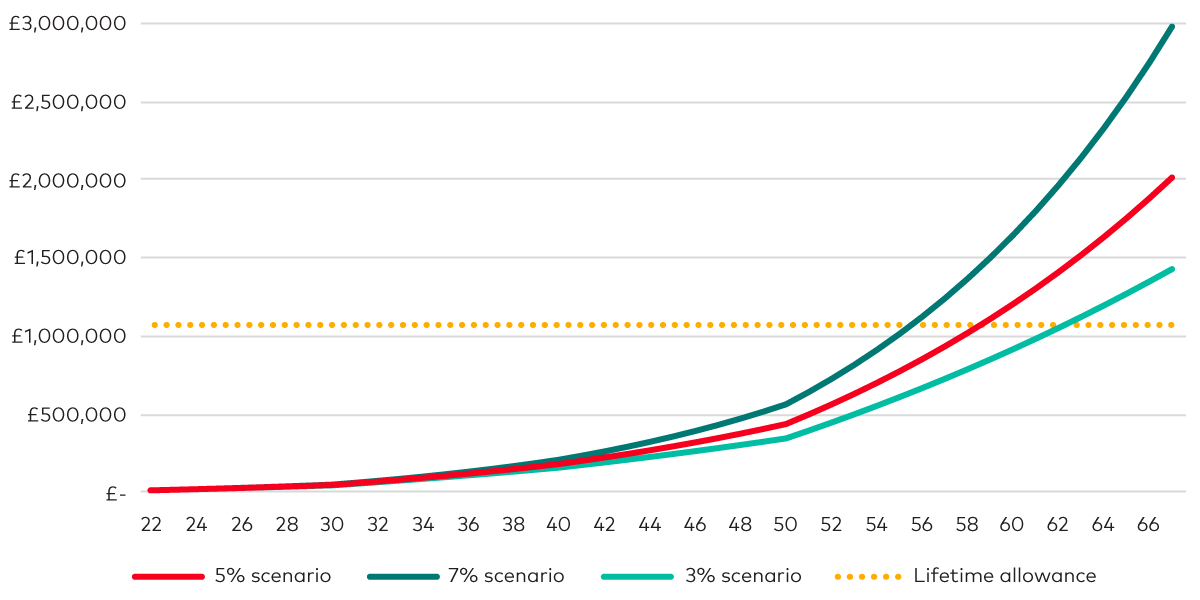 Source: Vanguard calculations. Notes: Illustrative example assumes a 12% pension contribution and average annual salary of £30,000 in the eight years to age 30. This rises to 20% of £45,000 pa through their 30s, 20% of £60,000 pa through their 40s, and to a maximum £40,000 pension contribution through their 50s and beyond.
Managing the risk
So, what could they have done – and what can you do – to mitigate this possibility?
Well one thing is clear: forewarned is forearmed. If you know where you are, you'll have a better chance of controlling where you're going.
Consolidating your different pensions into a product like a self-invested personal pension (SIPP) can help in this respect, by giving you a better sense of your overall retirement finances, especially if you have several workplace pensions scattered about the place.
But that might not be true of everyone, especially if you hold occupational pensions offering a secure income for life, so remember to speak to a financial adviser first.
Cash flow forecasts that project a person's likely retirement assets into the future can be even more useful. If the investor in our example had known she was on track to breach her lifetime allowances she might have earmarked more money to pay down her mortgage, for example, or reassessed her ambitions and contemplated an earlier retirement or radical change in her career.
With Vanguard Personal Financial Planning, you'll not only get a cash flow forecast baked into your financial plan, one reviewed annually so you always know where you are, but also real peace of mind knowing experts are managing your investments and navigating the tax landscape on your behalf, to give you the best possible outcome.
It may also be possible to reduce your tax burden by fixing your lifetime allowance at the higher 2015/2016 rate of £1.25 million6. But this comes with conditions, so speak to a qualified financial adviser first.
Finally, don't forget to use up your individual savings account (ISA) allowance, which is worth up to £20,000 a year. These are investment vehicles that people use for all sorts of goals, including their retirement.
Although the tax treatment between an ISA and SIPP is different, whatever you make within the ISA, stays within the ISA. What's more, it's beyond the reach of the lifetime allowance charge as payments from an ISA are tax free.
1 For a detailed breakdown of this, see page 42 of the 2021/22 Budget 'Red Book'.
2 There are two main types of pension: one that gives you a guaranteed income for life, also known as a 'defined benefit' (DB) scheme, and another that will pay you according to how much your accumulated pension investments are worth – a so-called 'defined contribution' (DC). A SIPP is a type of DC pension scheme. Most workplace pensions these days are increasingly of the DC variety too due to the high cost to employers of funding DB pensions, although many people in their 40s, 50s, and 60s may well have them, of at least a mix of DC and DB pensions.
3 In the case of a DC pension, this is the total market value of your investments. For DB pensions, the total value is calculated by multiplying the expected annual pension by 20 and adding this to any tax-free lump sum.
4 Over and above any existing personal allowances and subject to the different tax brackets applicable at the time.
5 The lifetime allowance has had an unsteady history since it was introduced in 2006. Having begun at £1.5 million and risen to as high as £1.8 million, it was progressively cut until reaching a low of £1 million in 2016/17.
6 Click on the link to find out more about protecting your lifetime allowance and to check if you're already protected.
Investment risk information
The value of investments, and the income from them, may fall or rise and investors may get back less than they invested.
Any tax reliefs referred to in this article are those available under current legislation, which may change, and their availability and value will depend on your individual circumstances. If you have questions relating to your specific tax situation, please contact your tax adviser.
Please be aware that pension and tax rules may change in the future and the value of investments can go down as well as up, so you might get back less than you invested. You cannot usually access your pension savings or make any withdrawals until the age of 55.
If you are not sure of the suitability or appropriateness of any investment, product or service you should consult an authorised financial adviser. Please note this may incur a charge.
The eligibility to invest in either an ISA or Junior ISA depends on individual circumstances and all tax rules may change in future.
Important information
Vanguard Personal Financial Planning offers restricted advice. This means we will only recommend Vanguard products and investments. We will not consider the whole of the market. Vanguard will manage your investments on your behalf. You will not be able to place trades on your own account.
This article is designed for use by, and is directed only at, persons resident in the UK.
If you have any questions related to your investment decision or the suitability or appropriateness for you of the product[s] described in this document, please contact your financial adviser.
The information contained in this article is not to be regarded as an offer to buy or sell or the solicitation of any offer to buy or sell securities in any jurisdiction where such an offer or solicitation is against the law, or to anyone to whom it is unlawful to make such an offer or solicitation, or if the person making the offer or solicitation is not qualified to do so.
The information in this article does not constitute legal, tax, or investment advice. You must not, therefore, rely on the content of this article when making any investment decisions.
Issued by Vanguard Asset Management Limited, which is authorised and regulated in the UK by the Financial Conduct Authority.
© 2021 Vanguard Asset Management Limited. All rights reserved.