Financial markets are pricing in a series of further interest rate increases from the Bank of England in the next year amid accelerating prices. The annual rate of inflation in the United Kingdom was 7% in March and is set to breach 8% in April as the effect of the energy price cap rise feeds through.
The table below shows how financial markets expect the UK central bank's main policy rate, the Bank Rate, to rise by about 1.75 percentage points over the next year – from 0.75% today to around 2.50% by March 2023.
Market expectations for UK interest rates
| Monetary Policy Committee meeting | Implied Bank Rate (%) |
| --- | --- |
| May 2022 | 1.00 |
| June 2022 | 1.29 |
| August 2022 | 1.62 |
| September 2022 | 1.86 |
| November 2022 | 2.08 |
| December 2022 | 2.23 |
| February 2023 | 2.38 |
| March 2023 | 2.51 |
Notes: Bank Rate as implied by the GBP Overnight Index Swap (OIS) forward curve. Source: Bloomberg as at 25 April 2022.
The Bank of England will hope that its efforts to clamp down on inflation will not come at too great a cost for the economy. This optimistic scenario – where inflation drifts back down towards the central bank's 2% target and the economy continues to grow close to potential – is known in economist-speak as a 'soft landing'.
However, given the economy is already struggling, a significant tightening in monetary policy would risk a 'hard landing' instead. This is where activity slows down to well below potential and raises the spectre of recession.
Indeed, recent data paints a pessimistic picture for UK household consumption spending. Higher energy and food prices, coupled with increased taxes, has caused retail sales to stall in recent months. And consumer sentiment has taken an additional hit from the war in Ukraine, as the chart below shows.
Growing pessimism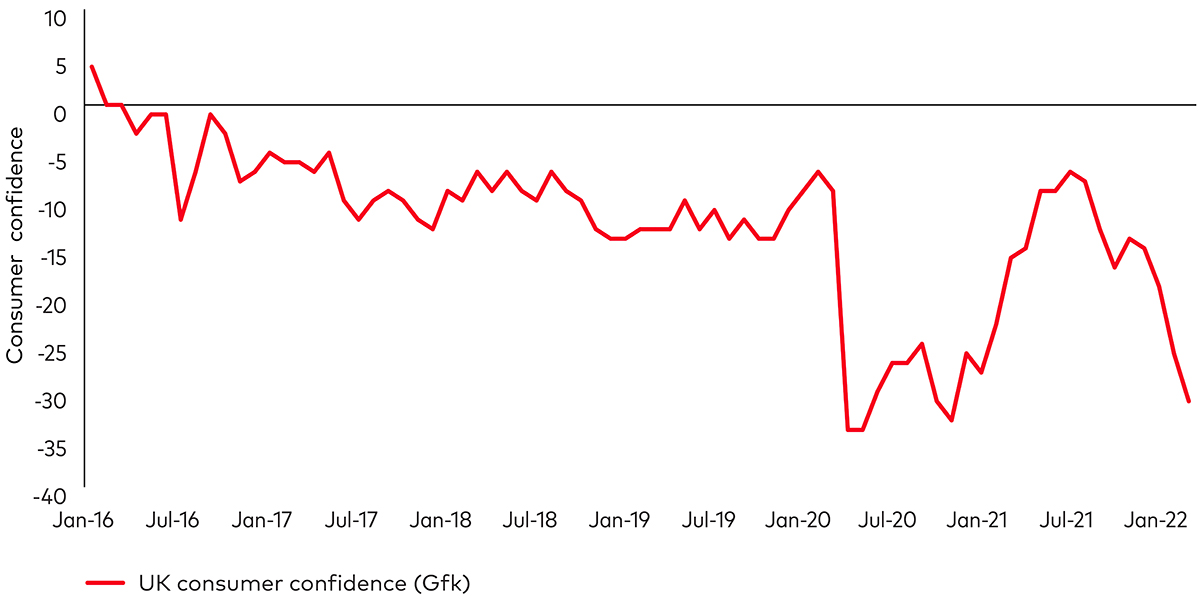 Source: GfK Consumer Confidence Barometer as at 22 April 2022.
Although these shocks are partially softened by the savings many households were able to accumulate during the pandemic, there is now a real risk that consumption will suffer an outright decline in the coming quarters.
The Bank of England finds itself in a tricky position, playing a fine balancing act between controlling inflation whilst limiting the harm done to the economy. In our view, should the central bank follow the path currently priced in by financial markets, the risk of choking off economic activity and inducing a recession is high. Particularly given continued geopolitical uncertainty, an expected tightening in monetary policy in many other economies and a slowdown in China amid renewed lockdowns.
More likely, we think, is that the Bank of England will pause its hiking cycle later in the year to allow the economy space to breathe. We think that it will feel more emboldened to do this if our baseline inflation forecast charted below proves correct, with inflation falling sharply back towards target after peaking in the final quarter of this year.
Better news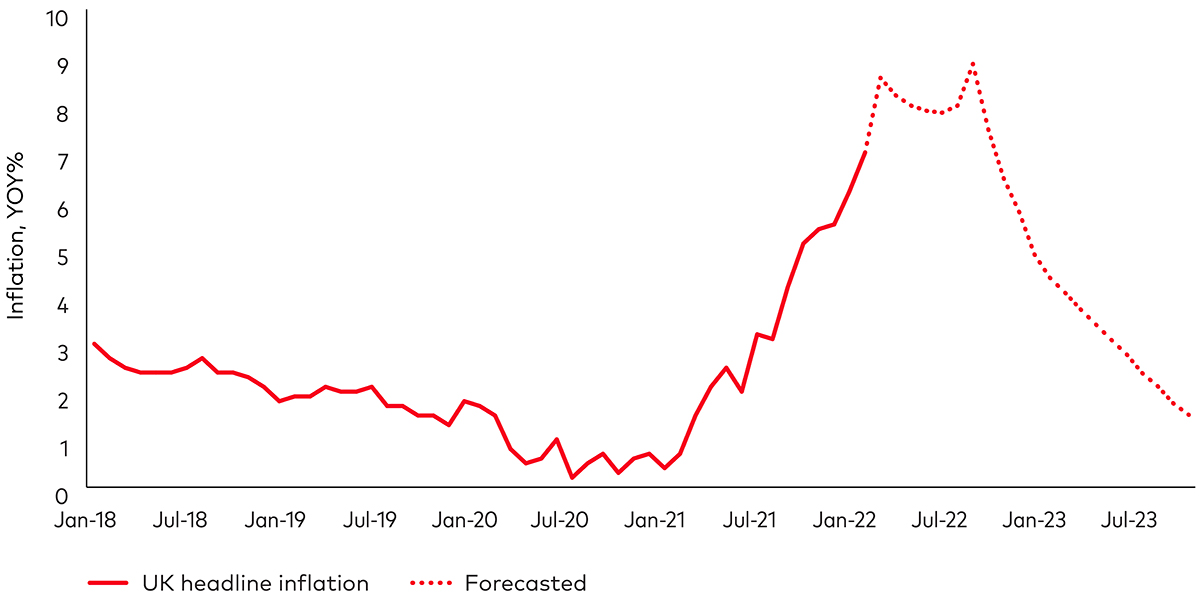 Source: Office for National Statistics, Vanguard forecasts as at 27 April 22.
All in all, this implies a slightly shallower path for UK interest rate rises than currently assumed by the market. In such an uncertain macroeconomic environment, it would not be surprising if we experienced bouts of volatility in financial markets in the months ahead. For long-term investors, it will be important to remain disciplined, keep your strategic goals in mind and stay the course.
Investment risk information
The value of investments, and the income from them, may fall or rise and investors may get back less than they invested.
Important information
Vanguard Asset Management, Limited only gives information on products and services and does not give investment advice based on individual circumstances. If you have any questions related to your investment decision or the suitability or appropriateness for you of the product[s] described in this article, please contact your financial adviser.
This article is designed for use by, and is directed only at, persons resident in the UK.
The information contained in this article is not to be regarded as an offer to buy or sell or the solicitation of any offer to buy or sell securities in any jurisdiction where such an offer or solicitation is against the law, or to anyone to whom it is unlawful to make such an offer or solicitation, or if the person making the offer or solicitation is not qualified to do so. The information in this article does not constitute legal, tax, or investment advice. You must not, therefore, rely on the content of this article when making any investment decisions.
Issued by Vanguard Asset Management Limited, which is authorised and regulated in the UK by the Financial Conduct Authority.

© 2022 Vanguard Asset Management Limited. All rights reserved.