Vanguard's core mission is to take a stand for all investors, to treat them fairly and to give them the best chance of investment success. It's why we keep investment costs low so that investors can keep more of their returns. But there is more to value than just cost; it's also about the performance, benefits and services that investors receive from their funds.
Every year, fund managers must carry out an assessment of the value they provide to investors, looking at seven criteria set by the Financial Conduct Authority (FCA), the financial-services regulator1. The aim is to help investors compare fund managers and make better informed investment decisions.
Vanguard recently published its third assessment of value report, which reviews 32 funds available to UK investors in the year to the 30 September 20212. Here are our key findings:
The ongoing charges figures (OCFs)3 for our funds were, on average, 77% cheaper than the average OCF of their Morningstar categories4. This compared with 75% in the year to 31 September 20205. We achieved this through a disciplined approach to managing costs and through the economies of scale and competitive pricing that we can offer as part of one of the largest asset managers in the world.
The performance of 97% of our funds achieved a green rating in this year's report, meaning they provided good performance on a number of metrics and relative to their investment objectives. Furthermore, 81% of our UK funds outperformed their respective Morningstar peer-group average over their longest time period (either one year, three years, five years or ten years)

6

.
The investors in our UK-domiciled funds benefit from a world-class global infrastructure, well-resourced teams and a depth of experience at a price that represents significant value.
Simplicity and transparency of pricing have always been an important aspect of Vanguard's share-class structure. We do not offer expensive share classes that have commission built into the pricing and we simplified our pricing in June 2020.
Average charges to retail investors for Vanguard funds vs Morningstar average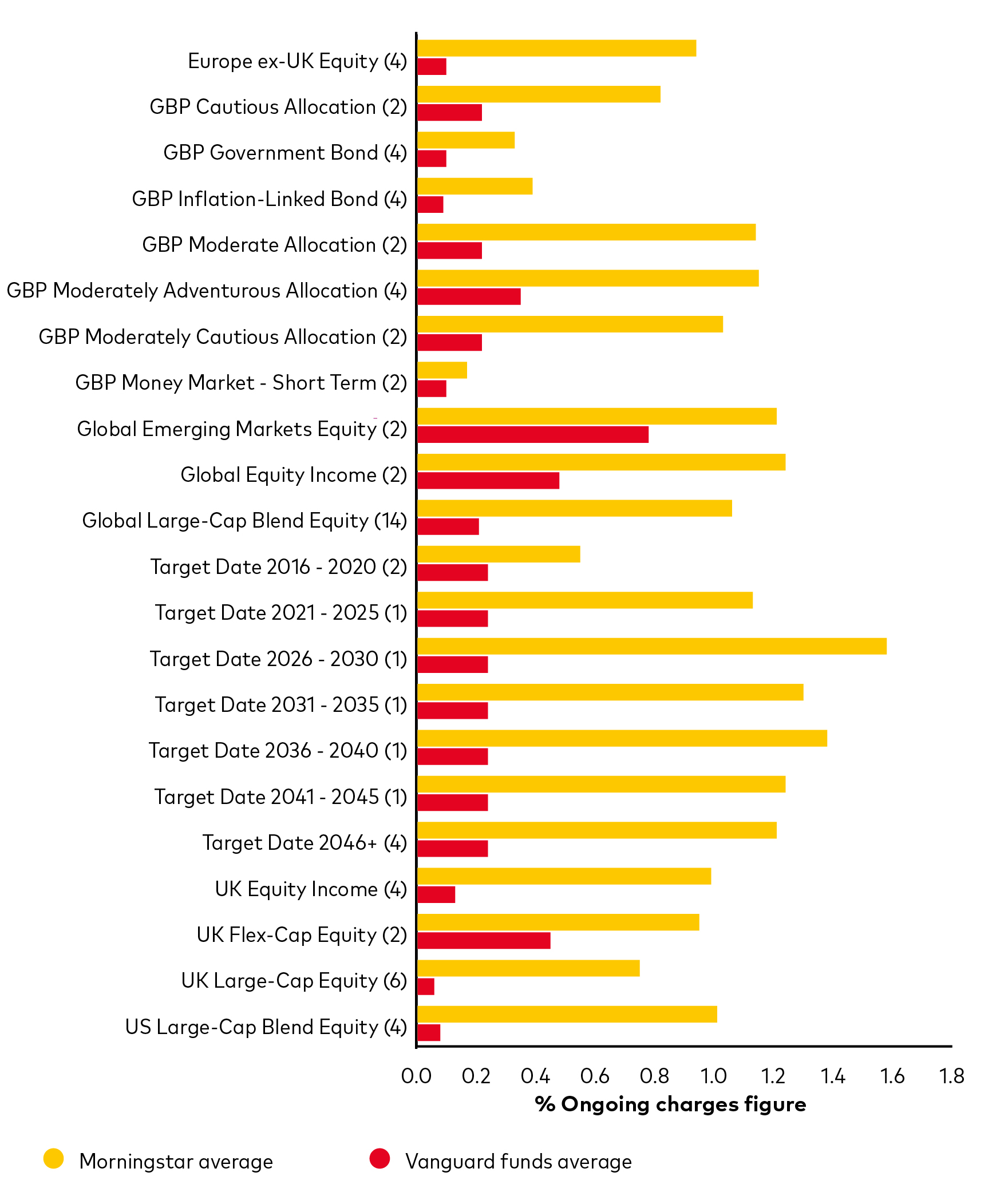 Notes: Comparison of average charges (ongoing charges figure or OCF) for Vanguard funds (number of funds in brackets) relative to comparable share class of direct peers in their respective Morningstar category. Morningstar categories include both index and active funds. Source: Morningstar as at 30 September 2021.
For a full table, please see the full report in the link below.
The report also notes that the Vanguard Personal Investor platform was recognised by Which?, the consumer organisation, for the third year running in 2021, when it was named a 'Which? Recommended Provider for Investment Platforms'. The platform came top of the Which? table for value for money and, once again, it achieved the highest overall customer score. In addition, it was named a 'Which? Recommended Provider for Self-Invested Personal Pensions (SIPPs)' for the second consecutive year.
Overall value
Vanguard's philosophy has always been to provide value to investors. Our third annual assessment of value report concludes that we continued to do this for investors in our UK funds in the year to September 2021. However, this does not mean that we are standing still. We will continue to monitor our fund performance and processes, recognising that there is always room for improvement to deliver the best outcome for investors.
For more information see our assessment of value report.
1 The criteria are performance, general costs of the fund, economies of scale, comparable market rates, comparable services, share classes and quality of service.
2 The report does not assess the value provided by the UK Personal Investor platform itself, only the UK-domiciled funds available on that platform.
3 The ongoing charges figure (OCF) is the sum of investment management fees (the fees paid to the portfolio manager to invest and manage the fund) and administrative and other expenses (which cover all costs and expenses connected with the operation of the fund, which includes administrative fees, shareholder's registration and transfer agency fees, custody fees and all other operating expenses).
4 Comparison of ongoing charges relative to comparable share class of direct peers in their respective Morningstar category. Source: Morningstar as at 30 September 2021.
5 Source: Vanguard Assessment of Value report 2020.
6 Past performance is not a reliable indicator of future results. Peer group is defined as the Morningstar category, including UK, Luxembourg and Ireland domiciled mutual funds and ETFs (all share classes). Does not include share classes that were launched in 2021. Source: Vanguard/Morningstar as at 30 September 2021.
Investment risk information

The value of investments, and the income from them, may fall or rise and investors may get back less than they invested.
Past performance is not a reliable indicator of future results.
Important information
This article is designed for use by, and is directed only at persons resident in the UK. The information contained in this article is not to be regarded as an offer to buy or sell or the solicitation of any offer to buy or sell securities in any jurisdiction where such an offer or solicitation is against the law, or to anyone to whom it is unlawful to make such an offer or solicitation, or if the person making the offer or solicitation is not qualified to do so. The information in this article does not constitute legal, tax, or investment advice. You must not, therefore, rely on the content of this article when making any investment decisions.
Issued by Vanguard Asset Management Limited, which is authorised and regulated in the UK by the Financial Conduct Authority.
© 2022 Vanguard Asset Management Limited. All rights reserved.